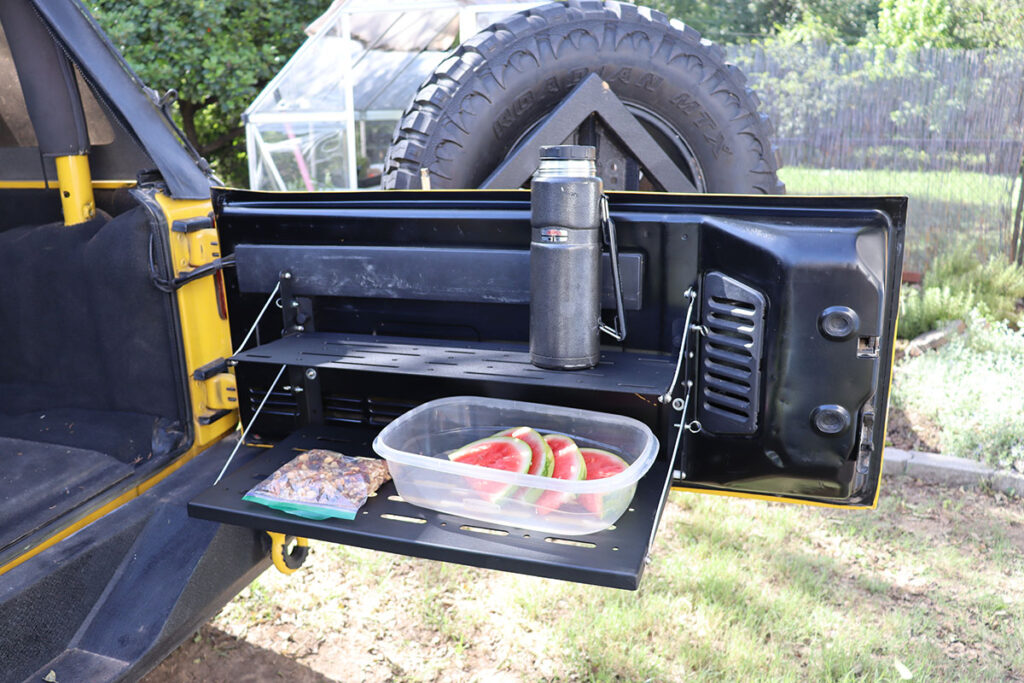 SUPAREE Double-Layer Tailgate Table for Jeep Wangler 
Feature
High quality stainless steel tailgate table for Wrangler JK
Made of high quality stainless steel with textured surface, anti-rust and anti-corrosive
Design in Foldable, increase the storage space inside the vehicle. Wide application in carrying foods, goods and so on

Need simple drilling for installing, professional installation are recommended, drilling position guide drawing is included
Installation Steps:
Cut along the dotted lines of the supplied placement template.

Open the tailgate and position the template with the right edge against the plastic cover on the right and the upper edge against the upper plastic cover.

Tape the template in place and use a center punch to mark the four mounting hole locations. Remove template.

Drill a pilot at each location with a ⅛" drill bit. Final drill each hole with a ⅜" drill bit. The top right hole on the tailgate uses the long #727 nutsert.

Thread the nutsert onto the tool, insert the assembly into the drilled hole. The fit should be tight and may need a light tap from a mallet to fully seat.

Ensure the nutsert is fully seated as the allen cap screw is tightened to install the nutsert. The initial resistance will be high until the nutsert begins to collapse. Resistance will again increase when the nutsert is fully collapsed and seated.

Repeat for the remaining three nutserts.

Push the rubber bumpers into the aluminum spacers.

Close at latch the table to check function.

Installation is complete.